"Plenty of power and flexibility"
~ Phillip Holmes – Phillip Holmes
"After getting accustomed to the Raven Reflection, other amps sounded decidedly polite and timid. Can an amp be "too dramatic" or "too powerful" sounding? I don't see how it's possible to create artificial drama without resorting to EQ and dynamic expander circuits, both missing in the Reflection.
My conclusion then, is that the Reflection is an excellent sounding integrated amp, with plenty of power and flexibility."
The Reflection Character
The Reflection takes everything we learned from creating the Silhouette MK3 Monoblock "Ultimate Tube Amplifier" and combines a world-class preamp for a best-in-class integrated tube amp.
An extraordinarily fast response delivers well-defined clean midbass and articulate, tight, full-throated low bass. The highs have all the pristine detail one could imagine with a midrange that is pure liquid for an unprecedented listening experience at this price point.
It is a statement piece, and will immediately become the center of your room!
Hand-Made in America
Hand-wired point to point and therefore 100% upgradeable forever. The Raven Audio Elite Series is made with the highest quality parts like Raven Capacitors, V-Cap, Mundorf, MIT-RTX capacitors and Raven transformers allied with classic tubes like Telefunken, Valvo, Tung-Sol, Siemens, Amperex, Sylvania, RCA, Philips, GE, National, KenRad, and Tungsram.
Studio Grade Connectors
Studio-grade RCA connectors. They are made of 99.95 percent oxygen-free copper and are gold-plated by our partner Neutrik which makes 99% of the connectors used in the world's best recording studios like Ocean Way and Abbey Road Studio. Each heavy-duty connector is individually hand soldered to oxygen-free copper wire.
The speaker binding posts are also 99.95 percent oxygen-free copper with gold plating. They accept banana, spade, and bare wire as large as 8 gauge.
Proprietary output/power transformers
Because output and power transformers are essential to the Elite series sound, we've designed custom wound transformers for both electrical power and audio output. Our proprietary transformers are designed to the highest specifications, are built in the U.S.A. and crafted to last a lifetime.
Proprietary Capacitors
Capacitors have a significant impact on the sound of an amplifier. On tube amplifiers they are critical. This is why we manufacture our own capacitors. They are a cost-no-object design and are born out of our Elite series amplifiers engineering efforts.
Build Quality
The Elite Series chassis are machined-from-solid-billet aerospace aluminum plates with solid-bronze corner posts. Construction is maintained with high-grade stainless-steel screws throughout. The adjustable chrome-plated stainless steel ball footers insulate and isolate the amplifiers and tubes for a better sonic response which is freer of conductive resonances, also good for avoiding scratches on your furniture.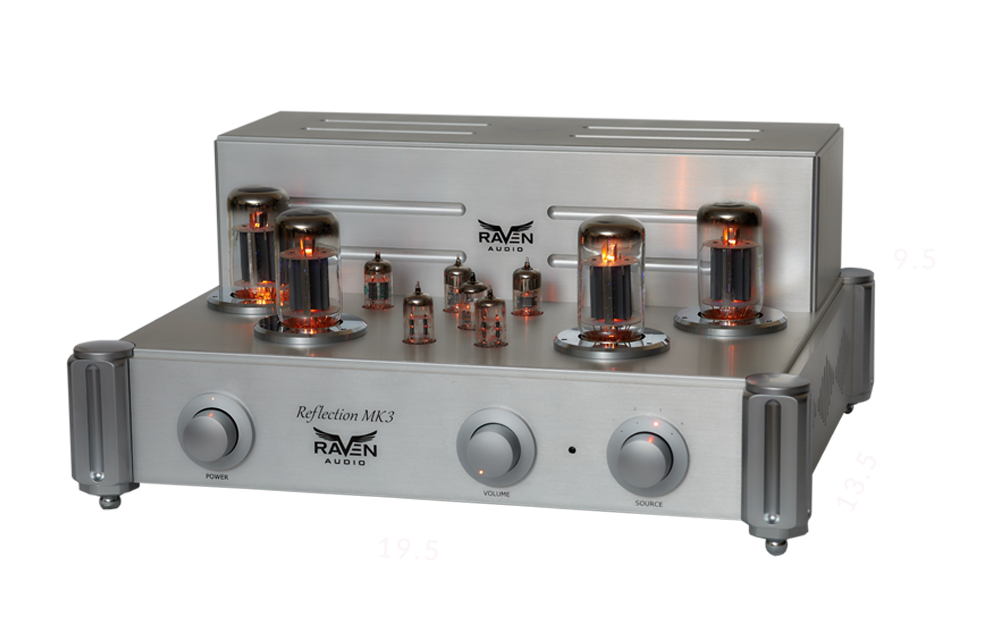 Features and Specifications
| | |
| --- | --- |
| High Pass Crossover | When using a subwoofer, the highness crossover can be engaged to reduce the bass load on the tube amplifier and main speakers. |
| Inputs | Single Ended RCA & Balanced XLR Inputs are Transformer Coupled. Input selector is relay based for minimal crosstalk. |
| Output | 60-75+ wpc (depending upon which power tube used) |
| Frequency response | 20Hz - 20kHz |
| Speaker terminals | 4 and 8 ohm |
| Recommended speaker sensitivity | 84db and above |
| Dimensions | W 19.5" x D 13.5" x H 9.5" |
| Weight | 64 lbs |
Only logged in customers who have purchased this product may leave a review.